Italia in Rosa 2016
10-11-12 June
H 05.00pm- 11.00pm
Do you know Italia In Rosa?
Italia in Rosa is a wine festival located in the baeutiful settings of Moniga del Garda's Castle. It's dedicated to Rosè Wines and in particular to Chiaretto Wine, which was born in Moniga del Garda.
Come to Moniga del Garda on Lake Garda, and taste more than 100 wines!!!
Mille Miglia
19-22 Maggio 2016
Are you ready for the most interesting race in the world?
Mille Miglia 2016 will depart on 19th May 2016 from Brescia at 14.30 and will pass through Desenzano and Sirmione on Lake Garda.
You can find the route of Mille Miglia 2016, here
http://www.1000miglia.it/Edizione-2016/Percorso-2016/
---
Castello in Bianco
Desenzano del Garda
20-22 May 2016
The festival 'Castello in Bianco' (castle in white) will take place in Desenzano from 20 to 22 May 2016 dedicated to the White Wines. Wine tasting in the restorated rooms of Desenzano's castle. More info www.castelloinbianco.it.
A real chance to discover Lake Garda beauties!
---
Gardaland Opening Season 2016
Season 2016 is going to start in Gardaland also. -3 days to the big Gardaland 2016 opening season on Lake Garda. From 24th March the park will be open everyday with a lot of news. Gardaland Magic Season opening times will be now 10.00-18.00 everyday. And from May 'Kung Fu Panda Academy' Gardaland new area, with Kung Fu Panda family rollercoaster and sushi restaurant.
One day Gardaland discounted tickets available in our offices in Moniga del Garda.
What are you waiting for? Have a great day in Gardaland!
---
The typical Italian Easter cake ... the Dove – La Colomba-
Are you ready for Easter on Lake Garda? Have you ever tried the tipical Italian Easter cake, The Easter Dove – La Colomba-?
The Dove means peace and rebirth, and for this reason it'is related to Easter.
We are very lucky here on Lake Garda, Brescia, because we can taste one of the best Easter Doves in Italy, that of the pastry chef Iginio Massari serving the typical Easter Dove in his pastry Veneto in Brescia.
Do you want to try his recipe?
Here is the recipe of the Easter Dove of Iginio Massari
INGREDIENTS
For the 1° mixture
g 700 NATURAL MATURE YEAST
g 1000 WATER
g 1000 SUGAR
g 700 EGG YOLK
g 2700 WHITE FLOUR 00 W 300-330 P/L 0,55
g 1100 BUTTER
For the 2 °mixture
g 700 WHITE FLOUR 00 W 360 P/L 0,55
g 700 SUGAR
g 300 HONEY
g 500 EGG YOLK
g 1550 BUTTER
g 50 SALT
g 100 ORANGE FLAVORING PASTRY
n 3 VANILLA BEANS
g 500 WATER
g 3000 SMALL CUBES OF ORANGE
For the icing:
g 250 BITTER ALMONDS
g 150 SWEET UNREFINED ALMONDS
g 100 TOASTED HAZELNUTS
g 800 SUGAR
g 20 COCOA
g 50 CORNFLOUR
g 50 POTATO STARCH
g 300 EGG WHITE
PREPARATION
For the first mixture
Put sugar and water in the food processor or planetary mixer at a temperature of 22°C, stir to obtain a syrup, add flour and yeast and after 15 minutes, add softened butter and the egg yolks. Knead the dough until almost smooth but not too shiny. It will take no more than 22-25 minutes. Leave the dough to rise for 10-12 hours at a temperature of 28-30 °C or anyways until the volume has increased three times.
N.B. We suggest to put 500g of the dough in a graduate cylinder to verify how much it develops.
N.B. If the dough rises in less time, the next leavening will be delayed three times.
For the second mixture
Add flour and seasoning and, when it becomes smooth, add sugar with honey and 1/3 of the egg yolks. Knead the dough until becomes smooth and elastic. Add salt and 1/3 of the egg yolks, repeat the same operation. Next, add the softened butter and the rest of the egg yolks; when the dough is smooth, add the water. Then knead for 2-3 minutes and add the fruit. Shape it as a loaf, and leave it to rest for about one hour at 30 °C, then divide it in two equal parts, shape the body and the wings in the microwave mold. Leave it to rise for about 5-6 hours at 30 °C with a humidity of 60% up to the mold border. When the pastry is ready to cook, freeze with a fine amaretto mixture, sprinkle with almonds, sugar grains and confectioners' sugar.
For the frosting
Thinly blend all the ingredients in the food processor, add the egg white. Use a medium whisk at medium speed. If you use a planetary mixer you may obtain a better royal icing and you could save time. If the icing is to soft, the Colomba might have some difficulties cooking and it will get wet after 8-10 days after the baking. It may also get mold. It is advisable to let the pastry rest for a day in the fridge before eating it. If after baking it, the icing is too hard the risk that it comes off the surface is very high. After being cooked, the Colomba has to rest for 12-14 hours upside down to cool off and stabilize itself. They are then sealed in appropriate confections, making sure no air passes so not to accelerate the aging.
[Fonte: www.iginiomassari.it]
TOP 5 things to do in MONIGA del Garda, Lake Garda
So, are you ready to get the most from your holiday in Moniga, Lake Garda and discover here the Top 5 things to do in Moniga? Here we go:
1-Rent a boat by Rappydrive in Moniga port and enjoy the lake by the lake. Don't miss this opportunity! Our guests can get special discounts on boat rentals.



2-Visit the wide beach and the new harbour. Relax at the beach, have a swim, sunbathe and end your day with an aperitive in one of the bars at the port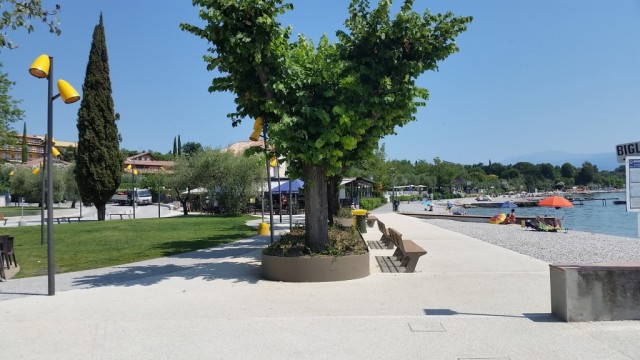 3-Take a long stroll by the lake to the next village. With the new promenade from Moniga to Padenghe, you can enjoy a beautiful lakeside promenade, stop for a drink in Padenghe and come back to Moniga.
4-Have a typical italian dinner in a local farmhouse like Agriturismo 30. Taste the real Italian food: polenta, homemade pasta, meat, spiedo, cakes. See the animals, let your children relax in the playground and have a beautiful evening. Easily walk there and enjoy!
5-Visit the Medieval Castle in Moniga and the beautiful lakeview park. Afterwards, stop for a typical aperitif, Pirlo, at the little bar over there, or reach Moniga town center, and have your Pirlo there, in one of the lovely bars.