Gardasee MTB - Mountainbike rund um den Gardasee
Sind Sie auf der Suche nach Aktivitäten im Freien? Lust auf Mountainbiken? Sie fragen sich, wo Sie hier an der Westküste des Gardasees Mountainbike fahren können?
Kommen Sie an die Rezeption und wir sind mehr als glücklich, Ihnen einen sehr guten Rat und sehr nützliche .gpx mit den besten Tracks auf Gardasee hier herum zu geben!
Was für ein Mountainbiker bist du?
Magst du XC? Valtenesi ist dein Spielplatz!
Sind Sie ein Enduro / AM / Trail Spaß? Der nördlichste Teil des Sees wird Sie zufriedenstellen!
Aber zuerst einmal, buchen Sie eine Wohnung im Relais Rosa dei Venti!
Wir können unseren Mountainbikergästen folgende Leistungen anbieten:
Sie dürfen Ihr Mountainbike direkt in die Wohnung bringen
Sie können Ihr Mountainbike in der Garage reinigen
Sie werden in der Lage sein, einige Wartungsarbeiten durchzuführen, fragen Sie an den Empfängen nach den Werkzeugen, die Sie benötigen!
Sie haben kein MTB und möchten ein Mountainbike mieten? Ebike oder nicht, kein Problem, blättern Sie in unserem Blog und Sie werden die Antwort finden
ps .: Thomas, der Besitzer, ist ein Mountainbiker!
Mille Miglia
19-22 Maggio 2016
Are you ready for the most interesting race in the world?
Mille Miglia 2016 will depart on 19th May 2016 from Brescia at 14.30 and will pass through Desenzano and Sirmione on Lake Garda.
You can find the route of Mille Miglia 2016, here
http://www.1000miglia.it/Edizione-2016/Percorso-2016/
---
Gardaland Opening Season 2018
Season 2018 is going to start in Gardaland also. From 1st April the park will be open everyday with a lot of news. Gardaland Magic Season opening times will be now 10.00-18.00 everyday. And from April 'Peppa Pig Land' is waiting for you!
One day Gardaland discounted tickets available in our offices in Moniga del Garda.
What are you waiting for? Have a great day in Gardaland!
---
TOP 5 things to do in MONIGA del Garda, Lake Garda
So, are you ready to get the most from your holiday in Moniga, Lake Garda and discover here the Top 5 things to do in Moniga? Here we go:
1-Rent a boat by Rappydrive in Moniga port and enjoy the lake by the lake. Don't miss this opportunity! Our guests can get special discounts on boat rentals.



2-Visit the wide beach and the new harbour. Relax at the beach, have a swim, sunbathe and end your day with an aperitive in one of the bars at the port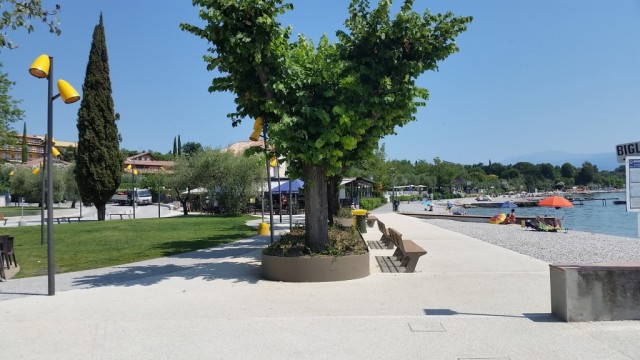 3-Take a long stroll by the lake to the next village. With the new promenade from Moniga to Padenghe, you can enjoy a beautiful lakeside promenade, stop for a drink in Padenghe and come back to Moniga.
4-Have a typical italian dinner in a local farmhouse like Agriturismo 30. Taste the real Italian food: polenta, homemade pasta, meat, spiedo, cakes. See the animals, let your children relax in the playground and have a beautiful evening. Easily walk there and enjoy!
5-Visit the Medieval Castle in Moniga and the beautiful lakeview park. Afterwards, stop for a typical aperitif, Pirlo, at the little bar over there, or reach Moniga town center, and have your Pirlo there, in one of the lovely bars.