We are open all year! Summer, Autumn, Winter and Spring!
Experience Lake Garda all year round! This is possible at the Relais Rosa dei Venti!
Our apartments are available to our guests all year round!
There is always a good reason to come to Lake Garda:
| | |
| --- | --- |
| * In winter the lake always benefits from a few more degrees! Within a few kilometers there are as many as 3 spas perfect for adults or families | |
| * in spring everything wakes up: amusement parks like Gardaland, Parco Giardino Sigurtà, Parco Natura Viva, are the ideal place to spend a weekend | |
| * in the summer why not rent a boat or take a boat directly from the port of Moniga 200 meters from us going down directly on foot? Visiting the lake from the lake is a unique experience! | |
| * in autumn it is the time to devote to food and wine: it starts with the harvest, continues with the olive harvest. The Valtenesi (land region that goes from Padenghe to San Felice) is an area with a strong agricultural vocation, wines like Groppelo (Rosso), Chiaretto and Lugana are all produced here near the Rosa dei Venti. There are various possibilities for making Wine Tasting at the numerous wineries! | |
Moreover, all year round it is possible to play Golf due to the temperate climate!
C'mon, book your apartment for your holiday!
---
Mountainbike around Lake Garda
Are you looking for some outdoor activity? Are you keen on Mountainbiking? Are you wondering where to mountainbike here on the west coast of lake Garda?
Come at the reception and we will be more than happy to give you some very good advice and very useful .gpx with the best tracks here around!
What kind of mountainbiker are you?
Do you like XC? Valtenesi is your playground!
Are you an Enduro/AM/Trail fun? The Northest part of the lake will satisfy you!
But first things first, book an apartment at Relais Rosa dei Venti!
We can offer to our mountainbiker guests the following services:
you will be allowed to bring your mountainbike directly to the apartment
you will be able to clean your mountainbike at the garage
you will be able to do some maintenance, ask at the receptions for the tools you may need!
You do not have a MTB and you want to rent a Mountainbike? Ebike or not, no problem, scroll our blog and you will find the answer
p.s.: Thomas, the owner, is a mountainbiker!
Mille Miglia
19-22 Maggio 2016
Are you ready for the most interesting race in the world?
Mille Miglia 2016 will depart on 19th May 2016 from Brescia at 14.30 and will pass through Desenzano and Sirmione on Lake Garda.
You can find the route of Mille Miglia 2016, here
http://www.1000miglia.it/Edizione-2016/Percorso-2016/
---
Gardaland Opening Season 2018
Season 2018 is going to start in Gardaland also. From 1st April the park will be open everyday with a lot of news. Gardaland Magic Season opening times will be now 10.00-18.00 everyday. And from April 'Peppa Pig Land' is waiting for you!
One day Gardaland discounted tickets available in our offices in Moniga del Garda.
What are you waiting for? Have a great day in Gardaland!
---
TOP 5 things to do in MONIGA del Garda, Lake Garda
So, are you ready to get the most from your holiday in Moniga, Lake Garda and discover here the Top 5 things to do in Moniga? Here we go:
1-Rent a boat by Rappydrive in Moniga port and enjoy the lake by the lake. Don't miss this opportunity! Our guests can get special discounts on boat rentals.



2-Visit the wide beach and the new harbour. Relax at the beach, have a swim, sunbathe and end your day with an aperitive in one of the bars at the port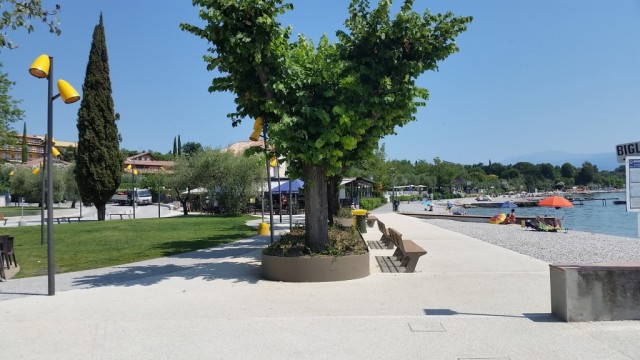 3-Take a long stroll by the lake to the next village. With the new promenade from Moniga to Padenghe, you can enjoy a beautiful lakeside promenade, stop for a drink in Padenghe and come back to Moniga.
4-Have a typical italian dinner in a local farmhouse like Agriturismo 30. Taste the real Italian food: polenta, homemade pasta, meat, spiedo, cakes. See the animals, let your children relax in the playground and have a beautiful evening. Easily walk there and enjoy!
5-Visit the Medieval Castle in Moniga and the beautiful lakeview park. Afterwards, stop for a typical aperitif, Pirlo, at the little bar over there, or reach Moniga town center, and have your Pirlo there, in one of the lovely bars.